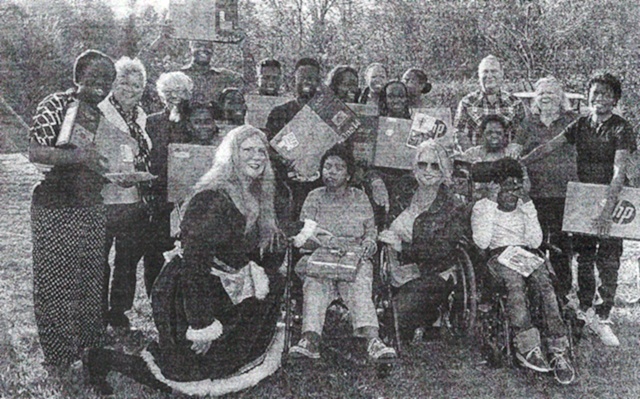 Original Article Appeared in The Villages Daily Sun
by Rachel Stuart - Daily Sun Staff Writer
Pat and Linda Manfredi have 14 children.
They aren't their biological children, but the couple sure does treat each and every one as their own.
About 40 years ago, the couple started The Carpenter's House for Children, where they take in abused and abandoned children from all over the world.
"It was definitely God calling," Linda said. "It takes an awful lot to do this. We just follow God's direction."
Although caring for children in need is a blessing for the couple, they still need all the help they can get, as they are supported solely by donations.
The Garden Worship Center in Belleview supports 30 local charities, including The Carpenter's House for Children.
As part of its monthly Fish Fry event Friday, the church surprised the 14children with Christmas gifts they never expected to receive.
"Fourteen kids are using one laptop. When they told us that, we all got together to raise money for these kids. They've always had to share something their entire life," said Norman Lee Schaffer, the church's pastor.
With his in mind, it took church members two weeks to raise $3,000 and purchase 14 computers for the children, who range from elementary to college students.
"They emailed us and very humbly asked for one used computer to help the kids. When somebody comes up to you and humbly asks for something, it just breaks your heart. We blessed their socks off," he said. "They've learned to share everything they had. They finally had something that was their very own gift."
The children's eyes widened as they each received their new laptop.
"It's unbelievable. Our kids were able to get brand new things that they never dreamed of," Linda said.
Linda said she was able to see the excitement and joy on her children's faces, and she is grateful to have the church's powerful prayer and continuous love.
"From a spiritual standpoint, they got to understand the gift of love and giving," she said.
"The church blessed us, and in turn, the kids bless them by their love. These kids have a very special love for The Garden Worship Center."
The children plan to go back to the church this week, and personally thank the pastor.
But Schaffer said it is what Pat and Linda do that makes a difference in the children's lives.
"What they do is an amazing thing. They're the ones that are doing the job, we're just helping them," he said.